In order to get started on Marketo, it is important to be accompanied by experts of the platform. Why? Marketo is relatively intuitive, although a certain number of business choices are to be expected to get the most out of marketing automation. A Marketo certified company will be able to tell you if you have the necessary pre-requisites and will accompany you in your rise to competence.

Marketo's promise: Marketing automation is easy
Marketing automation refers to techniques and tools that allow you to automate repetitive tasks by running preconceived marketing scenarios, with the aim of stimulating the prospect in the progress of his buying process. For example, send 1 email every week followed by a white paper 3 weeks later and finally offer a webinair to people who have downloaded the white paper.
Marketing Automation allows you to engage your prospects and allows your company to
be more efficient in the way you communicate with your prospects on a daily basis
Save time by automating your marketing campaigns
analyze the ROI of your marketing actions
improve the quality of your leads going to sales
Marketing automation lies between sales and marketing.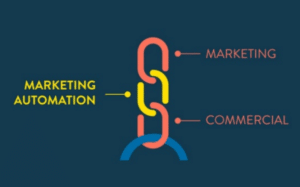 Source: Invox
It still seems a little unclear to you. Are you wondering how to get started with this type of project?
A Marketo certified company can help you implement it in your company and accompany you throughout the evolution of your digital maturity.
What is a Marketo certified company?
A Marketo certified company proves and attests that the company meets, for some of these aspects (procedures/products/services), a certain standard.
But also that it provides you with certified consultants, because to be certified by Marketo, it is mandatory that these consultants are certified.
Running a marketing automation project on your own: is it a good idea?
It is tempting to want to integrate to save money, time… However, in many cases, this turns out to be a false good idea.
Through our audits, we have observed that some customers who have launched a marketing automation project on their own, some fundamental good practices such as the synchronization of the tool with the CRM platform (Salesforce, Microsoft Dynamics…) was not correctly set up. This could lead to serious problems: modification of leads in the CRM by Marketo, bad update of fields, or a bad understanding of scoring programs and lead life cycle.
And rightly so! After all, implementing Marketo does not mean that the person(s) in charge abandon their other duties, and sometimes… there just isn't time.
As a result, we regularly notice that the client is not getting all the benefits that marketing automation can bring and that they are not evolving as quickly as they would like on the Digital Marketing maturity curve. Because yes, marketing automation is a long journey with steps at each time, to get the most out of Marketo.
We have created an interactive questionnaire that allows you to situate yourself on the Digital Marketing evolution curve
That's why we highly recommend going through a Marketo certified company to implement it. If you've already started using the platform and recognize yourself in this article, it's never too late to get in touch with the experts.
We recommend a multi-step approach: start with an audit of your platform to identify its strengths and weaknesses, and then provide you with an offer tailored to your needs, which will allow you to quickly and efficiently optimize your use of Marketo.
The benefits brought by the Marketo certified company
Mobilized and autonomous teams, directly certified by Marketo
A proven methodology
Event/webinar/email/ … program models
Tracked websites with integrated Marketo forms
The ability to integrate your CRM with Marketo
A 360° vision of your marketing actions
Advice on the choice of direction for your sales and marketing teams
The certified team in charge of your marketing automation project will also provide you with its experience and best practices for each module.
For further information