You want to install new Marketo applications to optimize its operation but you do not know where to find them and especially, you do not know how to connect them?
Here are some keys to get you started!
Do you know the Launchpoint?
The Marketo Launchpoint provides hundreds of applications to install on your Marketo platform to complement it.
These applications are developed by different Marketo partners and classified by themes: Mobile Marketing, Content Marketing, Events and Conferences, Video Marketing, etc.
We invite you to browse the Launchpoint site by clicking here, where you will surely find an application that will be useful to you!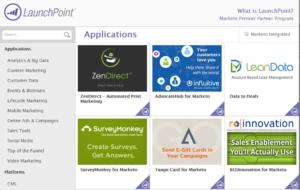 However, it is possible to find applications that are not listed on Launchpoint directly from the websites of third-party publishers.
These sources will give you access to all the instructions and useful links to proceed with the installation.
How to add a Marketo application
That's it, you've found the application you need and you're ready to go!
But how do you install it? Don't panic, that's what we'll see right away.
There are two ways to do this, depending on the origin of the application: Launchpoint or external site.
If the application is on an external site:
You can quietly continue working on your projects, the external partner takes care of everything.
If the application is on the Launchpoint:
Most Launchpoint applications are installed from the Launchpoint application itself.
Other applications need to be connected via Marketo, e.g. webinar providers and social networks.
Below you will find the procedure for setting up these services "pre-cabled" by Marketo:
Go to "Admin" then "Lauchpoint" > New > New service > Fill in the required fields > Create
The application is now connected to your Marketo platform, you will be able to find it in the administration section and in the programs that support it.
Merlin/Leonard developer of the "CRM Connector" at Marketo
Did you know that Merlin/Leonard has developed a connector that will allow you to connect any CRM to your Marketo platform?
The application is called "CRM Generic Sales Insight".
This application allows a native connection between your CRM and the Marketing Automation solution: Marketo.
This functionality mainly gives visibility to the sales team on the lead's journey and its information, collected by the marketing team before being pushed into the CRM.
This functionality transmits valuable information from the lead to the sales team (e.g.: his score, lead priority, his actions (opening an email/downloaded document))
Marketo integration is currently only available natively on Salesforce.com, SugarCRM and Microsoft Dynamics.
The Marketo options
If you own a Marketo license you can subscribe to additional options at any time. To do this, simply contact your Marketo sales representative to find out how to set it up.
For example: an application allows you to connect a mobile to Marketo.
This functionality allows you to send SMS directly from Marketo, it can also be used to manage an event via the mobile (Send: SMS, alerts, push notifications).
These are additional options, to be able to take advantage of them, you will have to get in touch with the Marketo sales department.