« The best marketing doesn't feel like marketing. »
Tom Fishburne – Marketoon Studios
What is the ideal email? Many blog articles, infographics, white papers or even books offer you THE best practices for your emails. But in the midst of this abundance of sometimes contradictory advice, there is one thing that everyone will agree on: it is that an email should not end in an unsubscribe click or end up in spam!
In this article we give you some tips to send emails efficiently via Marketo.
Send an email efficiently with GOOD CONTENT …
We have already told you in this blog, personalizing your content is now essential. Emails are no exception to this rule!
Start by targeting your content with a Preference Center.
This will allow you to determine the themes (product categories, ranges, types of services,…) on which your prospects want to receive content. Double advantage: you know your prospects better, you can target them better and above all you avoid unsubscribing by sending them content that interests them!
Still on the personalization side, establish a behavioral targeting: send your emails taking into account the customer journey of your leads. Thanks to your preference center, send your latest infographic on inbound marketing to your contacts interested in digital marketing and your white paper on setting up an international CRM project to your contacts interested in CRM!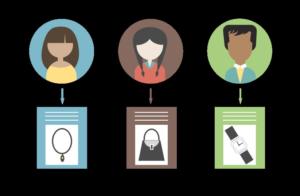 Use dynamic content (or snippet) to easily personalize your emails according to the recipient's location or sector of activity.
Personalization features are not unlimited in emails in general.
So it will always be necessary to think about providing a "View as web page" whose text is customizable in Marketo.
Finally, and coming back to the content of your emails, Marketo identifies 4 simple objectives to engage your recipients: solve one of their problems, make them earn money, teach them something or simply entertain them…
… sent at the RIGHT TIME …
First, be consistent in time with a fixed frequency of sending :
once a month or week (every day is risky … !),
at the same time: always in the morning, at each lunch break, late in the evening or why not at the weekend, you just have to choose a certain recurrence depending on the type of content you want to send.
Secondly, once again to take into account the customer journey, Marketo distinguishes two types of email:
Operational: everything that concerns a "transaction" (registration confirmation, download, alert, …).
Non-operational: which correspond to all your marketing actions (newsletter, nurturing, ads, content …)
In concrete terms, if someone in your contact base has chosen to no longer receive content from you, they will no longer receive any non-operational email but may receive an operational email.
Some of your contacts no longer wish to receive your newsletter but may still choose to download one of your latest presentations for which they should receive an email with the download links!
It is therefore essential to provide emails for this purpose for any type of confirmation (download, registration, order, …).
Ask yourself the right questions before activating the outbox!
… to the RIGHT PEOPLE
To take unsubscribing even further, Marketo helps you by distinguishing several types of "unsubscribed":
Unsubscribed: I will only receive operational emails and no marketing content
Marketing Suspended: Marketing doesn't want to send me any emails at the moment, I'm not ready to receive them or I've already received a lot of them and they're leaving me alone for a defined period.
Email Suspended : Oops … An email was returned in Hard Bounce for this address (example : the email is a spam identified by Marketo).
Email Invalid : Mmmh … The email address is invalid!
Black Listed : I will receive NOTHING, no email : I am a competitor for example !
The targeting of your content will be even more precise.
Your second fear is to end up in spam, so avoid generic email addresses contact@….com / info@….com and prefer an avatar name@company.com to make the conversation more personalized.
Precisely, you are talking to human beings, so it is recommended to use a common language and not to hesitate to use humor. The recipient must feel that he is reading a text actually written by a person and not an automatic response.
Finally, thanks to its connection with your CRM, Marketo includes your sales teams in the emails.
It is then possible to send content in their names using the "Lead Owner" as sender.
It is always more pleasant to conclude a purchase with the same person who recommended you his blog articles or redirected you to his offers. You can also choose to make certain emails accessible directly from your CRM in case your sales people want to invite a prospect to an event, for example, or send them specific documentation on an offer.
And finally: Test, test and test again!
First reflex: Send yourself a sample of your email to preview its rendering in your mailbox.
( ! ) : Don't forget to test the rendering in different mailboxes. Your emails generally do not appear in the same way in Gmail, Outlook, Thunderbird,…
Second reflex: A/B Testing > a process allowing to send several versions of an object (site, landing page, email,…) to distinguish the most efficient one according to your objectives (openings, clicks, form filling,…).
Some ideas of data to test for your emails
You only need three steps to start your A/B Testing in Marketo: choose the data to be tested, choose the winning criteria and schedule the sendings on different samples previously defined. This process is particularly useful for your nurturing programs to evaluate the effectiveness of different subjects, dates and times and/or contents.