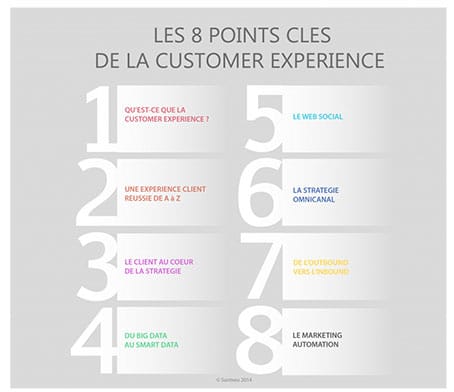 Point 1: What is Customer Experience?
The customer experience is the set of interactions and emotions felt by the customer, before, during and after the purchase act. For a successful customer experience, the company must pay constant attention to the prospect throughout the customer journey. In 2014, 97% of executives say that customer experience is necessary for their company's competitive advantage, according to Oracle.
Point 2: A successful customer experience from A to Z
Often, companies focus on a single interaction with the customer. They manage one step at a time, but fail to address the customer consistently across the entire customer journey, i.e. the pre-purchase, purchase and post-purchase phases. Yet, by delivering a successful end-to-end customer experience, companies reap many benefits: increased customer satisfaction, reduced churn, increased revenue and improved employee satisfaction. A successful customer experience combines the following elements: consumer confidence, relevance of the offer and communications, a conversational mode between customers and the company, and an omnichannel strategy. According to Harvard Business Review, the average consumer satisfaction drops by 40% during the customer journey in the telecom industry.
Point 3: Putting the customer at the heart of the strategy
To provide a successful consumer experience, the company must be structured around the customer, in a "customer-centric" logic. Teams must work together to achieve the same goal: customer satisfaction. From then on, the company's departments communicate and collaborate: they are no longer hermetically sealed from each other. It's a win-win organization because it improves employee satisfaction, the customer experience and company revenues. A study by KPMG & National Retail Federation shows that in 2012, more than 67% of retail companies had consumer satisfaction as a strategic priority.
Point 4: From Big Data to Smart Data
With the multiplication of information flows, a 35-fold increase in data volumes by 2020 (Source: IDC study), marketing departments can propose new and more targeted offers. Big Data is an important asset to compete with the competition. It is the real-time data flow, structured (linked to CRM and Web Analytics) and disordered (linked to social media). Once analyzed, all of these information flows give marketing departments an idea of what to push to consumers: this is Smart Data. The company can better understand each customer as an individual to establish a richer dialogue. It listens and adapts its discourse as well as its offer.
Point 5: The Social Web
According to a Médiamétrie study, 80% of Internet users are registered on a social network. Social networks have become a must in recent years. Indeed, the study shows that one out of five Internet users consume more of the brand's products if they receive information from it. But be careful, each network has its own functionality. For example, Facebook is for friends and family, Twitter more for brands and Linkedin for professional contacts. A brand presence on the networks is not enough, the challenge is to analyze with relevance what is said on these new platforms to interact with skill and gain an effective share of voice. Social networks allow to act in "one to one" and "one to few". It is necessary to keep in touch with the consumer, because animating the community remains one of the priority issues to create attachment.
Point 6: Adopt an Omnichannel strategy
Being an omnichannel company means offering a seamless experience to consumers regardless of the point of contact between the customer and the brand, by unifying the purchase path. Consumers are increasingly connected; the barriers between physical and online retail are diminishing and consumers want to be able to start shopping online and finish in-store without having to start from scratch. According to the IDC Retail Insights study, a multi-channel customer spends on average between 15 and 30% more than a single-channel customer. And the omnichannel customer spends another 20% more than the multichannel customer! Here are five points to propose to your customers to succeed in your Omnichannel strategy, in retail for example:
buy online and have it delivered in store
offer a sales history
to have the stores' inventory in real time
offer a digital invoice
have a return policy.
Point 7: from outbound to inbound
In the past, companies produced marketing efforts without being able to precisely measure the impact of their actions due to the lack of adapted technologies. These were outbound marketing strategies where the company pushed the product towards the consumer. This type of marketing is now obsolete because the consumer is saturated and consumption patterns have evolved. To adapt to market changes, companies are turning more and more to a new kind of marketing, more flexible and segmented, inbound marketing. It is a relational approach and a conversational operation with the consumer. They are more involved in the brand and in the offer. 40% of generation Y members ask to participate in the creation of products, according to the Edelman 8095 study. The co-creation approach allows to enhance the brand image and to propose products and services in line with consumers. In summary, an effective marketing strategy combines inbound, outbound and marketing automation.
Point 8: Marketing automation
Marketing automation is the technology that allows companies to streamline, automate and measure marketing efforts. For B2B companies, this includes lead nurturing, lead scoring and lead lifecycle management. For B2C companies, this includes sales, upsell and retention. Finally, for all companies, it includes ROI analysis on marketing investments. Marketing automation aligns all departments in the company. Did you know that 44% of marketing managers have no idea what would result from a 10% increase in the marketing budget? (Source: Lenskold Group's 2010 B2B Lead Generation Marketing ROI study)